MTPA List of "Preffered" Candidates. Click the list to download to take to the polls..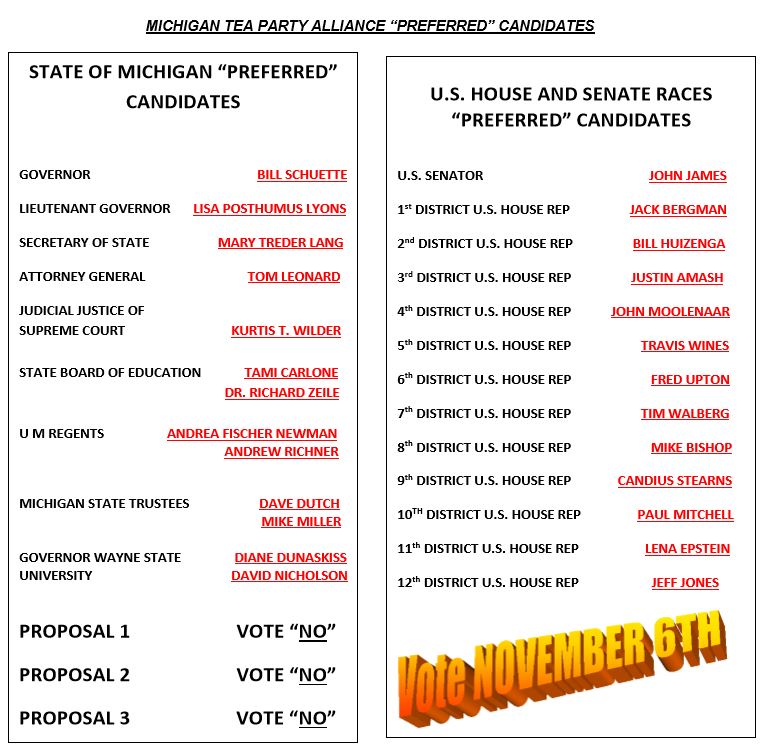 ---
Missed the debates for the Governors and U.S. Senate Races? Watch them below...
Gubernatorial Debate
U.S. Senate Candidate Debate
There are 3 Statewide ballot proposals on the ballot in November. Here is information YOU need to know to make and informed decision..
Michigan Proposal 18-1 "Recreational Marijuana" November 6, 2018
This proposal would:
Allow individuals 21 and older to purchase, possess and use marijuana and marijuana-infused edibles, and grow up to 12 marijuana plants for personal consumption.
Permit retail sales of marijuana and edibles subject to a 10% tax, dedicated to implementation costs, clinical trials, schools, roads, and municipalities where marijuana businesses are located.
Michigan Proposal 18-2 "Voters Not Politicians" November 6, 2018
The proposal would amend the Michigan Constitution to create an independent redistricting commission. The 13-member commission would consist of five independent members, four self-declared Democrats and four self-declared Republicans.
Elected officials, candidates, lobbyists and political consultants or staffers -- as well as family members of politicians or other insiders -- would be barred from participating within six years of their politically-affiliated position.
The commissioners would be selected randomly from a pool of registered voters who submitted applications to the Secretary of State. The Secretary of State would be required to circulate commissioner applications to 10,000 registered Michigan voters at random from various regions of the state.
Final maps for congressional and state House and Senate lines would require majority approval and support from at least two Republicans, two Democrats and two independents on the commission.
Michigan Proposal 18-3 "Promote the Vote" November 6, 2018
This proposed constitutional amendment would allow a United States citizen who is qualified to vote in Michigan to:
Become automatically registered to vote when applying for, updating or renewing a driver's license or state-issued personal identification card, unless the person declines.
Simultaneously register to vote with proof of residency and obtain a ballot during the 2-week period prior to an election, up to and including Election Day.
Obtain an absent voter ballot without providing a reason.
Cast a straight-ticket vote for all candidates of a particular political party when voting in a partisan general election.
---
RECENT NEWS
Job openings hit record 7.136 million...
Feds Collect Record Income Taxes in 2018...
Budget deficit highest level in 6 years...
MO Sen. McCaskill Hides Agenda: 'People just can't know that'...
---